Katie Dabson and Ben Saxton piped the Spanish rivals, Tara Pacheco and Fernando Echavarri, after foiling at full speed across the finish line and won the World Championship title of Nacra 17 of 2017 in La Grande-Motte, France.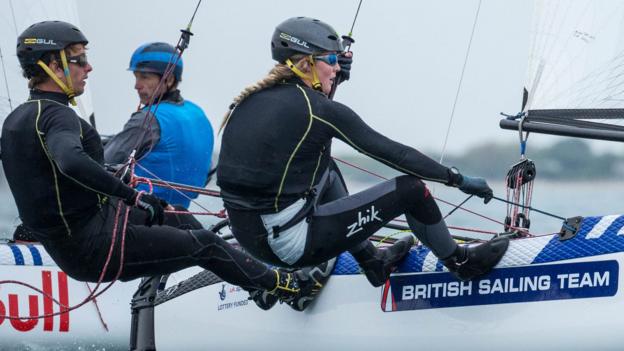 During the final run the Echavarri who was sailing with Tara Pacheco, lead the British into the double points Medal Race finish, but then the breeze came and lifted them and they lost out to the flying.
"In all the races that I have raced in, this is my closest finish. And decision came in the last 20 seconds. But, honestly, I am happy that Ben and Katie have won this race, if not us. These guys really worked hard during the race and they deserve this win, after us" said, Echavarri.
"When we were approaching towards the top of the second beat, I said Katie; all we have to do now is to pass that boat. So, we gunned it down very hard," Said Saxton
Dabson said "It is pretty strange, when I crossed the finish line, I was very happy and at the same time I got quite emotional."
"This is like my first real Olympic sailing, it was really fascinating. We both work hard and, this does not come easy, we put together a consistent week and we just kept on churning, the good support that we have here also helped us a lot to keep us grounded."
"This win was important for me and I can't explain how much happy I am after having it finally. This is truly beyond my expectations and one of my biggest win. The race will also be recalled for years to come, all credit to both of us" said Dabson.